What size Wire should I use for my Speakers/Subwoofers?
April 21, 2019 by Coleman Thedinger
Are you ready to connect your speakers and subwoofers to the amplifiers in your car, complete the circuits, and finally hear your new system? Not so fast. Before you go running any old speaker wire, make sure you've got the right kind! It's not always easy to run wiring from your battery, to your amplifier, to your subs and speakers, so it's worth getting it right the first time.

We're focusing on the wire that connects your amplifier (or amplifiers, plural, depending on your setup) and your speakers, and/or subwoofer(s). Having said that, the connections between your alternator, battery, and your car audio equipment are also important, as are your main ground wires. If you're still unfamiliar with this, make sure you brush up on what's known as the "Big 3 Upgrade", a very worthwhile upgrade to your car's electrical system that doesn't cost very much and only takes a few minutes to complete.
Planning Your Speaker and Subwoofer Wire
Now back to the topic at hand, choosing the correct wires for your subwoofers and speakers. The AmericanWire Gauge (AWG) standard measures the thickness of wires. The smaller the gauge number, the thicker the wire is. Beyond the physical size of the wire, it's also important to keep in mind that pure copper wire will perform better than aluminum or copper-clad aluminum wire, so gauge doesn't always tell the whole story.
Having said that, it's less of a concern with speaker and subwoofer wire than it would be for your amplifier's power or ground wires. With the main power wires in your car, it's important to perform calculations involving the total distance and amperes, but for speakers and subs we're safe to stick with a couple quick rules of thumb.

Before you start cutting wire, or even buying it for that matter, it's a good idea to take some string and physically plot out your wire run in your vehicle. It's awkward to try to measure it precisely with a tape measure, but string allows you to get a much better idea visually and then you can just measure the string with your tape measure.
Even after you've measured it out precisely, you'll want to include a fair amount of extra length (more than just a few inches). You'll inevitably end up having to change something around at the last minute, like having to point your amplifier in a different direction than you had originally planned. Once everything is in place and you've finalized your design, you can cut off the extra length.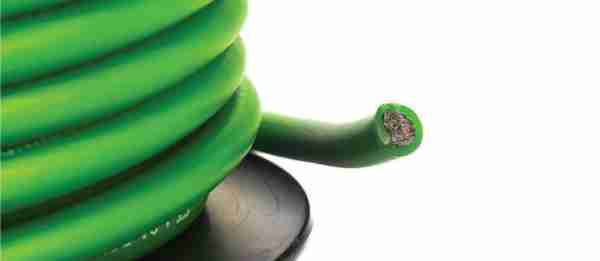 There are a few exceptions, but here are safe gauges to use (in AWG):
For Subwoofers: 12
For Longer Speaker wire runs: 12
For Shorter Speaker wire runs: 16
If you have some beefy subwoofers wired together with a high-power amplifier, you'll probably want to bump that down to 10 or even 8 AWG speaker wire.
For reference, with the Big 3 upgrade to the main wiring, you would often use 1/0 AWG coming from the alternator to the battery, but the section of the circuit between your amplifiers and each channel of audio only represents a portion of the total power of your car audio system, which is why we can use thinner wires in some places, compared to the main power wires.

AMPLIFIER WIRING KIT COLLECTION