CT Sounds 8" in-Wall Home Audio Speaker
🔊 SUPERB SOUND QUALITY: The speaker is a premium home audio, dynamic balanced in-ceiling 8" speaker that provides more vibrant sound tones. You will hear, experience and feel sound like never before. The metalized silk dome tweeter adds more depth to your music. You will experience clean sound without distortions. The sound is smooth & crisp. The speaker packs a serious punch. Unleash the Sound of CT, built for those who DARE, the Best Bang for Your Buck!
🔊 BEST CHOICE: This 8" in-ceiling home audio speaker is rock solid & high quality. For higher strength and rigidity, the speaker features a mineral-filled polymer cone and strong composite driver baskets that firmly align the moving parts, which creates a wider dispersion of even sound coverage. This 8" in-ceiling speaker, represents the best combination of craftsmanship and components in our category. This speaker is easy install and the aluminum grilles are paintable.
🔊 TOP-QUALITY COMPONENTS: In-ceiling 8" home audio speaker has an IMPP cone with Nitrile Butadiene Rubbersurrounding it, black stamp steel basket with black powder paint, 8 Ω Ohm Rated impedance, 40Hz ~20 kHz Frequency Response, 56Hz Resonant Frequency, 88dB SPL output, Y30 graded ferrite magnet, 5.60μF /100V Crossover Circuit and 102.10mm / 4" mounting depth (With ABS Panel). Make sure to feed 50W (RMS)/8 Ω Ohm for this set. You will experience magnificent sound with this BADASS speaker.
🔊 MOST TRUSTED NAME: CTSounds Unwavering Commitment, Reliability, and Craftsmanship has made it one of the most trusted names in in-wall audio speakers. With our advanced technology, engineering, and innovation, we produce the best in sound systems and speakers so you can sit back, relax, and enjoy. CT Sounds bring its clients a home audio product second to none. This is an amazing in -ceiling home audio speaker and reproduces superb sound quality. Why pay more for theater quality speakers???
🔊 90 DAYS WARRANTY: CT SOUNDS 8" in-ceiling home audio speaker comes with the most up-to-date technology. If you are not 100% satisfied with our products. Contact us and we will find a solution together. CT is known for its quality, performance, and reliability. At CT Sounds, you are treated like family. CT is more than a brand it's a lifestyle.
For those looking out for some great quality and affordable home audio in-ceiling speakers, check out the 
CT Sounds Bio In-CEILING 8" Home Audio Speaker (1 Speaker)
. For home audio, this in-Ceiling speaker is a top of line. This ceiling mount speaker includes silk dome tweeter so that listeners get rich audio with pin point accuracy. If you are having colored false ceiling, this speaker will just be perfect by both means, outlook and audio quality. Most importantly, this speaker includes PTC sensor that works as a solid safeguard for the speaker that prolongs its quality audio.
Whats in the box:

1 x Bio In-Ceiling 8" Home Audio Speaker
1 x White ABS circular protection panel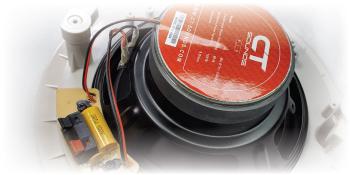 Features:
Each speaker includes a 25mm silk-dome tweeter
Each speaker has IMPP cone with NBR (Nitrile Butadiene Rubber) surround
Solid 35.5mm / 1.4" KAPTON voice coil at speaker core
White Zinc (Zn) coated top & back plate with yellow PC spider
Speaker has Y30 graded ferrite magnet
Each speaker has black stamp steel basket
Includes white ABS round panel with color matching grille
 

Tech Specs:

 

Rated Power per Speaker: 

80W (RMS) | 160W (MAX)

Speaker Size: 

8"

Speaker Type: 

In-Ceiling

Rated Impedance: 

8Ω (Ohms)

Output SPL (@1w/1m): 

88dB

Resonant Frequency, F0: 

56Hz

QTS: 

1.240

Frequency Response (@SPL -10dB): 

40Hz ~ 20kHz

Magnet Type: 

Y30 ferrite

Crossover Circuit: 

5.60μF /100V

 Parameters:

 

Overall outer dia (With ABS Panel): 271mm / 10.67"

Cutout dia: 236.50mm / 9.31"

Screwing dia (4 screws): 217.50mm / 8.56"

Mounting depth (Without ABS Panel): 84.50mm / 3.33"

Mounting depth (With ABS Panel): 102.10mm / 4"
 
 
Bio In-Ceiling 6.5"
Bio In-Ceiling 8"
Bio In Wall 5.25" LCR"
Bio In-Wall 6.5"
Bio In-Wall 8"
Speaker Type
In Ceiling
In Ceiling
In Wall (LCR)
In Wall
In Wall
Speaker Size
6.5 Inch
8 Inch
5.25 Inch
6.5 Inch
8 Inch
Rated Power

50W (RMS)

100W (MAX)

80W (RMS)

160W (MAX)

80W (RMS)

160W (MAX)

50W (RMS)

100W (MAX)

80W (RMS)

160W (MAX)

Rated Impedance
8Ω (Ohms)
8Ω (Ohms)
12Ω (Ohms)
8Ω (Ohms)
8Ω (Ohms)
Output SPL (@1w/1m)
88dB
88dB
87dB
85dB
88dB

Frequency Response

(@SPL -10dB)

50Hz ~ 20kHz
40Hz ~ 20kHz
50Hz ~ 20kHz
50Hz ~ 20kHz
40Hz ~ 20kHz
Resonant Frequency
75Hz
56Hz
81Hz
75Hz
58Hz
Magnet Type
Y30 Ferrite
Y30 Ferrite
Y30 Ferrite & N38H
Y30 Ferrite
Y30 Ferrite
Crossover Circuit
4.0μF /100V
5.60μF /100V
4.0μF /100V
4.0μF /100V
4.0μF /100V