Coleman Thedinger

1992-2019
Posted 10-3-2019
(two months after his passing)
In Loving Memory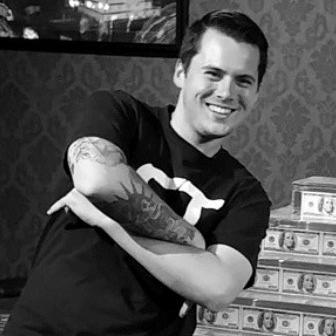 Coleman was born February 28, 1992 in St. Joseph, Missouri, departed this life August 3, 2019 in Houston, Texas at the age of 27.
Coleman moved to The Woodlands, Texas in 2005 from St. Joseph, Missouri. After graduating from the Archway Academy High School in 2009, his entrepreneurial spirit led him to start his first company – Audio Technix. He "Mr. CT SOUNDS" started out selling sound deadening material from his garage but quickly expanded to a warehouse facility selling everything from wire to an ever-growing line up of innovative automotive car audio equipment.
Although he had rapid success with the Audio Technix brand, he was forced to rebrand due to trademark issues. Through his perseverance and leadership, in 2013, Audio Technix split into two businesses, CT Sounds and Execution Audio.
In 2014, he moved to Los Angeles, California to expand the CT Sounds brand before moving back to The Woodlands in 2017. He thrived in California and touched the lives of so many people.
Coleman took the 12-volt car audio world by storm, offering mainstream and premium company- produced subwoofers, amplifiers and speakers through the new CT Sounds line. Under the CT Sounds brand, he successfully launched over 250 products, established relationships with more than 100 factories in China, and generated over $20MM in sales.
His entrepreneurial spirit was a gift that inspires others to become the best that they can be. His journey was like a rock thrown into a lake, sending ripples ever outward into the future. He will forever be remembered for his pranks, adventurous personality, love for his family, friends, and his four pit bulls – Nala, Layla, Kodak, and OT. 
He is survived by his father Bart, mother Amy, his four siblings – Clayton; Calvin; Amelia; and Corban.
The funeral services were on the 23rd of August at St. Anthony of Padua Catholic Church. The Interment & Rites of Committal were at Forest Park, The Woodlands Cemetery.




A MESSAGE FROM OUR CHAIRMAN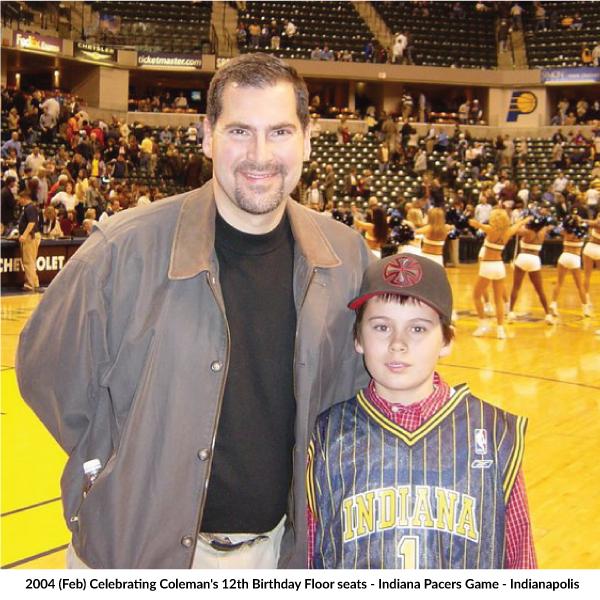 Dear Audio Enthusiast,
Candidly, the funeral of my eldest son and business partner was the most difficult day in my family's life.
We found comfort celebrating The Mass for the sweet repose of our friend, our brother, and our son - who I affectionately, still think of as my Coley Moley. It was simply an exquisite service. The Holy Spirit was at work for sure!!!
My family once again wishes to express our heartfelt thanks. We were humbled, overwhelmed and grateful for all the acts of love. I cannot offer enough thanks for the thousands of prayers offered on our behalf, the time spent crying with us, and for us. For all of these and many more, we are so, so, thankful.
A big shout out especially to the CT Sounds family who have been so patient with me as I unravel the relationships and interworking's of the business. Thankfully, there is light at the end of the tunnel. CT Sounds is within reach of hitting on all cylinders. The future is bright. I am very excited to have the opportunity to take the Car Audio Experience to the Next Level.
Coleman was a wonderful man. He, like all of us, faced many challenges, but what I admired the most, is he faced every challenge head on. As my precious Angel daughter, Amelia would say, "Coleman was silly, bright, compassionate, protective, caring, loving, and made everyone feel comfortable." Amelia's exquisite sentiment is spot on.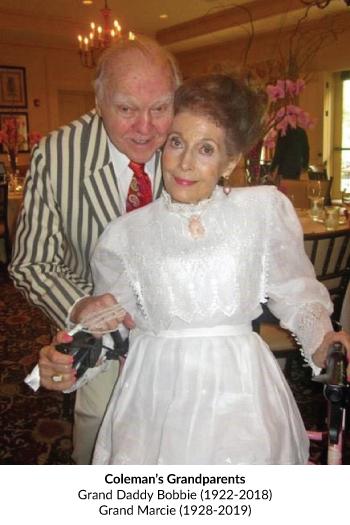 - Coleman admired his grandfather -- Grand Daddy Bob, who was an entrepreneur, as well. I too admired this man. Coleman's grandfather passed away in March of 2018. I quote from Coleman's 2018 Facebook post,
 "Thank you for creating an empire, I am truly blessed to be a Thedinger and to continue to carry on your legacy! You will be truly missed!" 
This still brings tears to my eyes.

Bobbies Obituary   |   Marcie Obituary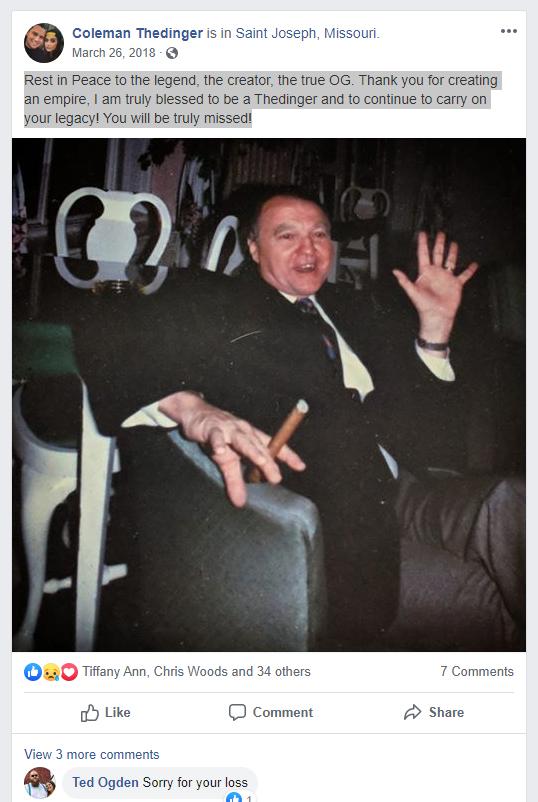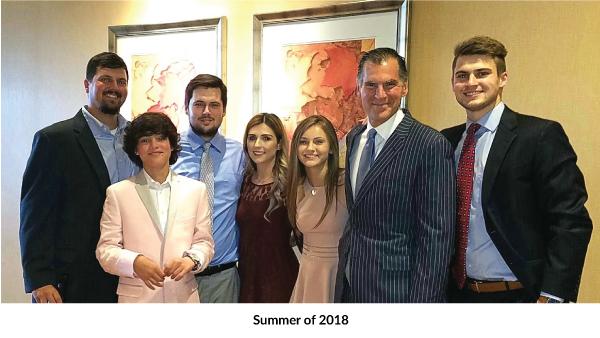 - Coleman & I were very close. He, along with his siblings, are my most precious treasure. They are my stars, my world, my Angels, my Alpha & Omega.

 - Finally, I am in awe of "Mr. CT Sounds." With no formal training and with only a high school degree he was able to accomplish so much by the age of 27 – some of the highlights being:
    • He successfully launched over 250 products;
    • Imported more than 1,000 containers from China;
    • Created a social media presence with over 1 million
        followers;
    • Received trademarks in 7 countries;
    • Had his best year in 2018 with positive cash flow and
        earnings;
I could go on and on…
I am a man of deep faith, so please indulge me (don't mean to offend) by concluding with two of my most favorite prayers.
Eternal God, in whom mercy is endless and the treasure of compassion - inexhaustible, look kindly upon my dear son Coleman and increase Your mercy in my family and in Coleman's Audio Enthusiast following, that in difficult moments we might not despair nor become despondent, but with great confidence submit ourselves to Your Holy Will, which is Love and Mercy itself.
O My Jesus, forgive us our sins, save us from the fires of Hell and lead all souls to Heaven, especially those who are in most need of Thy Mercy and especially Coleman Bartlett Thedinger.
CT Sounds is looking forward to serving your car audio needs. 
Humbled by His Power, In Loving Memory…
The future of Car Audio – Join Coleman's Army!!!
Bart Thedinger
Chairman
bthedinger@ctsounds.com – will do my best to reply, checked once a week